Lac Seul House Boat Rentals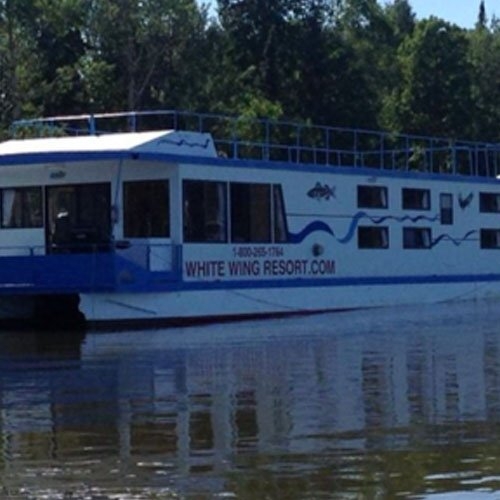 One of the best ways to take in the true beauty of Lac Seul is on a houseboat. Whether you want to enjoy time fishing, swimming, or simply relaxing, this is the place to do it. Spending time on a houseboat is an experience you will never forget. Enjoying the beautiful landscape with your family or friends will only add to the experience.
Houseboat Plan Includes
Our houseboats are 16x65 with 2 bathrooms and one shower and sleep up to 8 to 10 people comfortably.
The houseboat plan includes generator, propane stove, fridge, BBQ (propane is supplied), fish cooker, heaters, microwave, coffeemaker, toaster, all dishes and cookware, pillows, pillowcases and bottom sheet, one 15 cubic ft. freezer, and one 16 aluminum boat (motor not included but available to rent).
Our houseboats are powered by twin 130hp Mercury inboard engines and equipped with premium gas storage tanks for the houseboats and fishing boats.
Private gas is not allowed to be transported or used in any of the White Wing Resort equipment.
Check-in time for houseboats is 8:00am Saturday morning; (HOUSEBOATS WILL BE PICKED UP AT 9:00am THE FOLLOWING FRIDAY). Check-out time for houseboats is 12:00pm the following Friday
No refunds or transfers.
Houseboat and guide boat gas is not included in the rental. Gas will be refilled when boat is returned to the dock to be added to the final billing.
A deposit of $1000.00 is required to reserve houseboats. Payment in full will be required at check-out.
Not included in the rates; A houseboat CAPTAIN is required in/out $200 each way
Check out our rates which are quoted in U.S. funds and are subject to Ontario sales tax H.S.T. Rates and exchange could change without notice.